Home / Gaming PC / ICON Gaming Chair - Black/Red
ICON Gaming Chair - Black/Red
£239.99
Taking the luxury and attention to detail of the noblechairs lineup and blending it with an uncompromising aesthetic - the ICON has a style that embodies the adage that quality speaks for itself.
SKU: Stock Code: GC-00L-NC Category: Gaming PC
Description
Product information:
ICON Gaming Chair - Black/Red
Dynamic Engineering
As the suspension on a sports car contributes to the quality of the ride, the real-world performance of the ICON is decided by its ergonomics. The construction of the ICON series has necessitated an unrelenting level of precision engineering: 4D armrests, 90° to 135° of backrest adjustability, a robust 11° rocking mechanism. The chair is designed to support weight up to 180 kg, and the safety class 4 gas lift supports up to 180 kg. The result of this is an improvement in durability and lifespan as well as a superior sitting experience.
Anatomical Optimisation
While mechanical and material optimisations are key to the performance of the ICON, it is the shape in which they are employed that matters most. The eccentric shape of the ICON and its dimensionally stable cold foam improves ergonomic stability and anatomical compatibility, combining to maximise comfort and minimise pressure on the body over long periods of time. To further customise neck and lumbar support we included two luxuriously embroidered and adjustable pillows, thereby enabling the seat to actively respond to the needs of the user.
Take it to the next level with a noblechairs footrest
Build on the premium comfort offered by noblechairs with a specially crafted footrest. Thanks to the ingenious design they can be adjusted by up to 57 degrees ensuring they match the angle of almost any recliner and designed to complement the EPIC and ICON series. The footrests come in a variety of different materials including leather and 5 luxury colour combinations.
Upgrade your noble experience from only £109.99
---
European Hardware Awards 2018
At Computex 2018 in Taipei (Taiwan) noblechairs are proud to have been crowned the winner of the "Best Gaming Chair" category thanks to the prestigious European Hardware Association for the noblechairs ICON Series.

This award and the rest of the award-winning recipients can be viewed here (external link).
Overclockers UK and Caseking would like to extend our congratulations to noblechairs on this well-deserved victory!
---
1 Month Comfort Guarantee
We are that confident you'll love your new noblechair, in the unlikely event you aren't 100% happy, Overclockers UK will arrange collection of your chair and offer a full refund*.
*Terms and conditions apply
---
OcUK TV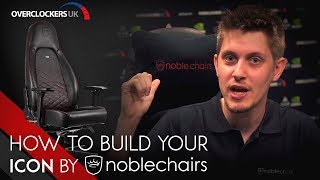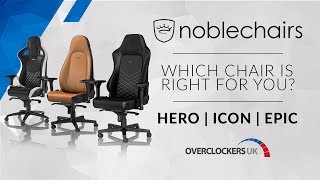 #ck_sideribbon { display:block; position:fixed; width:209px; right:-160px; top:250px; z-index:500; } @media only screen and (max-width : 1330px) { #ck_sideribbon { display: none; } } #ck_sideribbon a { display:block; position:relative; margin-top: -7px; } #ck_sideribbon img { border:0 none; width:209px; height:53px; } #scrollUp { background: url("/frontend/_resources/images/heading_bg.png") repeat-x scroll 0 0; border-bottom: 1px solid #366fac; border-top: 1px solid #3D7FB9; color: #fff; box-shadow: 0px 0px 1px #000; font-weight: normal; padding: 10px 5px 7px 5px; font-family: 'archivo_narrowbold_italic',Helvetica,sans-serif; text-transform: uppercase; bottom: 100px; right: 0; -webkit-transition: padding 0.3s; -moz-transition: padding 0.3s; -o-transition: padding 0.3s; transition: padding 0.3s; } @media only screen and (max-width : 1330px) { #scrollUp { display: none!important; } } #scrollUp:hover { padding:10px 30px 7px 10px; } #scrollUp span { display: block; width: 34px; height: 0px; padding-top: 26px; overflow: hidden; background: url("/frontend/_resources/images/navheader_sprite.png") no-repeat scroll -110px -75px; } .hide-review { display: none; }