Home / Gaming PC / EPIC Gaming Chair - Black/Gold
EPIC Gaming Chair - Black/Gold
£239.99
One-of-a-kind luxury gaming chair by noblechairs in black-gold with 100% vegan faux leather cover premium design high-precision manufacturing plus ample features & adjustment options.
SKU: Stock Code: GC-002-NC Category: Gaming PC
Description
Product information:
EPIC Gaming Chair - Black/Gold
European Hardware Awards 2017
noblechairs are proud to have received the crowning 'best gaming chair' award at Computex 2017 for their EPIC series from the prestigious European Hardware Association, who comprise of 9 of the largest independent technology news & review sites from across the continent. The award was decided by over a hundred reviewers across Europe and given in recognition of the impact that the EPIC series made within the market since their launch with multiple best-in-class awards and overwhelmingly positive feedback.

Overclockers UK congratulates noblechairs on this well-deserved victory!
Delightful aesthetics, finest details and choice materials
The chairs' elegance is furthered by many loving details like the subtly debossed logo that crests the headrest above an elliptical aluminium emblem with relief lettering which adorns the backrest. The breathable imitation leather cover is perforated in the contact zones for ideal aeration and possesses an intriguing surface texture that emulates real leather perfectly. This black-blue version of the noblechairs PU imitation leather range of gaming chairs comes with golden seams along with a black logo patch with golden embroidery and its easy-to-clean black artificial leather is nicely framed by black faux velour leather stripes. Combined with a stunning list of features the noblechairs EPIC series indubitably constitutes the pinnacle of gaming chair development.
Only choice materials and advanced features:
Timeless and classy luxury car look "Designed in Germany"
Covering made of 100% vegan polyurethane (PU) imitation leather
Coloured seams, fine embroidery and perforated contact zones for best aeration
A sturdy frame that consists of solid steel
Height-adjustable safety class 4 gas lift
Comfy & breathable high-density cold foam upholstery straight from the factory
Durable five-star base and logo emblem made of pure aluminium
60 mm casters with nylon core and PU coating for soft and hard floors
Softly cushioned 4D armrests made of PU
Advanced rocking mechanism up to 14°
Flexible adjustment options for individual adaptability
Two pillows included for the lumbar and neck area
Reinforced outer packaging for safe and sound delivery
2 years manufacturer warranty most obligingly handled by OCUK
A plethora of features with plenty of adjustment options
An advanced rocking mechanism, that allows for rocking the chairs up to 14 degrees, is accompanied by softly cushioned 4D armrests made of polyurethane, 360-degree swivel rotation, flexibly adjustable seat height via a safety class 4 gas lift and a sturdy steel frame mounted atop a durable five-star-base made of pure aluminium.
The pertaining five smoothly running 60 mm casters with nylon core and polyurethane coating are attached to the base and equally suited for soft and hard floors. The noblechairs gamer seat's tilt positions can be locked and the tilt tension can be dynamically adjusted. Also the angle between backrest and seating area can be statically adjusted through a practical side lever.
Upgrade your throne with premium accessories from noblechairs!
The first class chairs from noblechairs deliver an out-of-the-box fantastic seating experience, which can only be further enhanced by high-quality accessories by noblechairs. To adapt the gaming chair perfectly to the needs of the user, noblechairs offers practical 60 mm hard-floor wheels with automatic locking function , which stops annoying sliding and moving across the floor. In addition, shorter gas lifts allow for a lower overall height of the seat, which makes the chair the perfect throne even for smaller users.
Take it to the next level with a noblechairs footrest
Build on the premium comfort offered by noblechairs with a specially crafted footrest. Thanks to the ingenious design they can be adjusted by up to 57 degrees ensuring they match the angle of almost any recliner and designed to complement the EPIC and ICON series. The footrests come in a variety of different materials including leather and 5 luxury colour combinations.
Upgrade your noble experience from only £109.99
1 Month Comfort Guarantee
We are that confident you'll love your new noblechair, in the unlikely event you aren't 100% happy, Overclockers UK will arrange collection of your chair and offer a full refund*.
*Terms and conditions apply
---
OcUK TV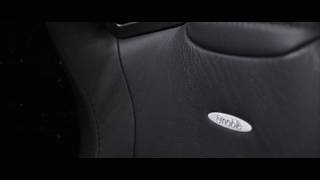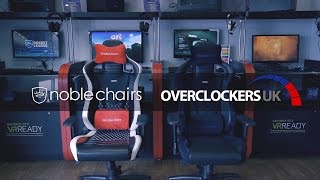 Product Specification:
| | |
| --- | --- |
| Chair brand | noblechairs |
| Accent colour | Gold |
| Main colour | Black |
| Seat cover material | PU leather, Fabric |
| Adjustable back rest | yes |
| Height adjustable | yes |
| Adjustable arm-rests | yes |
| Maximum load | 180 kg |
| Weight | 27 kg |
| Seat belt openings | yes |
| Deepest seating position (adjustable) | 49.5 cm |
| Highest seating position (adjustable) | 59.5 cm |
| Seat tilt | yes |
| Seat width (inside) | 35 cm |
| Seat width outside (widest point) | 56 cm |
| Seat length | 49.5 cm |
| Backrest height | 87 cm |
| Back rest width (inside) | 52 cm |
| Backrest width outside (widest point) | 56 cm |
| Overall height (with base) | 131 - 141 cm |
| Head rest cushion included | yes |
| Lumbar support cushion included | yes |
| Base material | Steel |
#ck_sideribbon { display:block; position:fixed; width:209px; right:-160px; top:250px; z-index:500; } @media only screen and (max-width : 1330px) { #ck_sideribbon { display: none; } } #ck_sideribbon a { display:block; position:relative; margin-top: -7px; } #ck_sideribbon img { border:0 none; width:209px; height:53px; } #scrollUp { background: url("/frontend/_resources/images/heading_bg.png") repeat-x scroll 0 0; border-bottom: 1px solid #366fac; border-top: 1px solid #3D7FB9; color: #fff; box-shadow: 0px 0px 1px #000; font-weight: normal; padding: 10px 5px 7px 5px; font-family: 'archivo_narrowbold_italic',Helvetica,sans-serif; text-transform: uppercase; bottom: 100px; right: 0; -webkit-transition: padding 0.3s; -moz-transition: padding 0.3s; -o-transition: padding 0.3s; transition: padding 0.3s; } @media only screen and (max-width : 1330px) { #scrollUp { display: none!important; } } #scrollUp:hover { padding:10px 30px 7px 10px; } #scrollUp span { display: block; width: 34px; height: 0px; padding-top: 26px; overflow: hidden; background: url("/frontend/_resources/images/navheader_sprite.png") no-repeat scroll -110px -75px; } .hide-review { display: none; }